I like to take photos of Vermont.  It gives me pleasure in many ways, it keeps me outside and moving when I am there.  It allows me to see Vermont in the best light – literally.  Whether it's a pre-dawn hike, or late afternoon, after sunset, in snow, rain, sleet, fog or anything else Mother Nature can dream up, there is always something to photograph.  But I also enjoy looking at photos of Vermont, especially those done by professional photographers.  Their photos often give a perspective that is both aesthetically pleasing and informative, often helping me with my own photos.   I personally focus my lens on the rural Vermont landscape like so many Vermont visitors.  Often there is much more and the professionals allow me to experience it through their images.  Here are some my favorites and you can check out their contributions to the Vermont story via their images and words.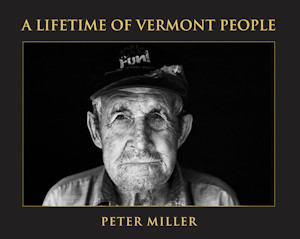 Pete Miller – www.petermillerphotography.com   Mr. Miller has spent a lifetime recording images that tell the story of rural Vermont people.  My favorite book is also his 1990 Coffee table offering simply entitled "Vermont People" (revised in 2003), followed by Vermont Farm Women (2002), Vermont Gathering Places (2005) and A Lifetime of Vermont People (2013).  Mr. Miller's Black and White portrait images of ordinary Vermont's since 1950 stand as a testament to the independent spirit that males Vermont and its people a special place.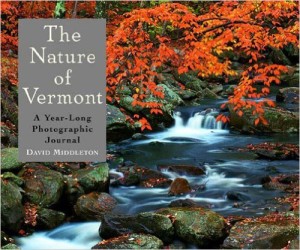 David Middleton – www.davidmiddletonphoto.com  Mr. Middleton calls Vermont home and has spent a good portion of his life documenting the beauty that is the Vermont Landscape including its diverse wildlife and the daily rigors of the disappearing Vermont family dairy farm.  He has authored 14 books, including titles about Maine and Oregon.  I have two favorites, 2003's "The Nature of Vermont" and "A Photographs Guide to Vermont" (also 2003).  The latter is still a valuable resource when heading out for a day of photographing the Vermont landscape.  His 2010 book, "Quite a Sightly Place, A Family Dairy Farm in Vermont" is the product of his four years working on a Vermont Dairy farm.  Mr. Middleton still teaches many workshops in Vermont and other places and also recently started Crossroads Photographic Workshops.  Crossroads Workshops (www.crossroadsphotographicworkshops.com) looks to partner photographers with local non-profit organizations giving these organizations access to quality images that help further their cause and give workshop participants purpose to their efforts.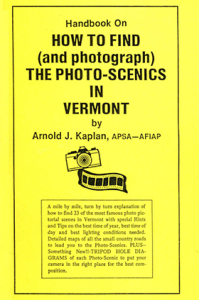 Arnold Kaplan (2016 – 2013) – www.arnoldkaplanphotography.com  Mr. Kaplan authored one of the first and most popular handbook's to help aspiring Vermont photographers find Vermont's most iconic scenes.  The self-published 1973 handbook titled "How to Find (and Photograph) The Photo-Scenics in Vermont" is a mile by mile, turn by turn explanation to finding 23 different Vermont scenics.  Mr. Kaplan has taken his 30 years of Vermont photography prior to 1973 to select the most popular scenes, the handbook has had several reprints since then and is still available today.  The descriptions are specific and the hand-drawn maps are presented as if a good friend was giving directions to a recently stumbled upon location.  The maps even tell you where to place your tripod legs.  Years and progress have changed many of the scenes but the handbook is still valuable to any new photographer looking some good Vermont Landscapes.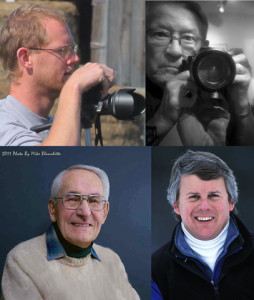 Tim Kirchoff – pixels.com/profiles/tim-kirchoff.html   I'm not sure if Mr. Kirchoff is a professional photographer but I still enjoy looking at his photos of Vermont's Northeast Kingdom.  The "Kingdom" as it is known represents the upper northeast corner of the State.  The vistas are grand and the scenery is 100% New England.  Anyone looking to photograph the Vermont landscape in on a grand scale should visit the Northeast Kingdom, in any season.  Just head up Interstate 91 until you hit the town of St. Johnsbury, exit the highway there and head north or east to explore the Kingdom.  Mr. Kirchoff's photos are a good representation of what you might find.
These are some of my favorite photographers, there are others.  These are the ones I find most interesting.  I have never met any of them or spoken with any of them I just enjoy looking at the images for both enjoyment and information.